Climb Details
Got Questions? Find Answers Here!

WHY WE CLIMB
Each year, approximately 100 Firefighters die while serving their communities. Many more die from cancer, heart disease, neurological disorders, stroke, and other injuries and illnesses suffered as a result of their service. We can work together to honor these sacrifices and care for the Firefighters who assume these risks and the families who share them.
Join this living memorial on September 9th, 2017 at the Hilton San Diego Bayfront for the 16th anniversary commemoration of 9/11/01. Firefighters, Police Officers, Military Personnel, and Civilians will join together in a spirit of remembrance and courage to honor the memories of those lost 16 years ago. Teams and individuals will climb 110 flights of stairs, the same number as in the twin towers, wearing the name of a fallen Emergency Responder whose life was lost on that day. We climb in memory, and to honor each of the fallen 343 FDNY, 23 NYPD, and 37 Port Authority heroes, and to raise awareness of the sacrifices made by Firefighters everywhere.

About The SD911MSC
The only event of its kind in the region, the San Diego 9/11 Memorial Stair Climb is a unique and powerful experience enjoyed by thousands of patriots every year. Annually, hundreds of Firefighters, Public Safety Officers, civilians, and family members gather at the San Diego Hilton Bayfront to honor the memories of the lives lost on September 11, 2001, and to create an experience none of us will ever forget.
---
Choosing A Hero For Whom You Climb For
The SD911MSC sells out at 1,200 participants. Each climber selects one of the 403 first responders (343 FDNY, 47 PAPD, 23 NYPD) who died on 9/11 to climb in honor of. For all 403 heroes we use their professional New York safety agency head shot to display on the climber badges. If you wish to use a different photo for your hero we suggest you print it out on your own and bring it with you the day of the climb. You can easily slide your picture into the lanyard and display it. We do not grant requests to change hero's head shots. We appreciate your understanding.
---
2017 REGISTRATION
PRICE INCREASES AND DATES
Early Bird Registration
Monday, May 1st - Sunday May 21st
$40.00 Kids
$50.00 Virtual Climber
$50.00 Public Safety
$60.00 Adult
Regular Registration
Monday, May 22nd - Monday September 4th 11:59pm
$45.00 Kids
$50.00 Virtual Climber
$80.00 Public Safety
$90.00 Adult
On Site
$110.00 Kids
$110.00 Public Safety
$110.00 Adult
Ages 5-13 = Kid
Age 14 and over = Adult
Public Safety ID must be presented at event check-in on the morning of 9/9/2017.
Priority start times are given to top fundraisers, not climbers who sign up during early bird Registration, or "first come first served" basis! If you want to ensure you absolutely get your desired start time, you've got to work for it. $110 is a great place to start!
---
EVENT SCHEDULE
| | | |
| --- | --- | --- |
| 7:00 am | | Climber Check-in Begins |
| 8:00 am | | Food Trucks are open for service |
| 8:10 am | | Opening Ceremony |
| 8:46 am | | Honor Team #1 begins to climb |
| 9:00 am | | Kid Zone is open |
| 9:03 am | | Honor Team #2 begins to climb |
| 9:37 am | | Honor Team #3 begins to climb |
| 9:58 am | | Honor Team #4 begins to climb |
| 10:03 am | | Honor Team #5 begins to climb |
| 10:00 am | | Beer Garden opens |
| 10:28 am | | Honor Team #6 begins to climb |
| 11:00 am | | Band begins |
| 3:00 pm | | Beer Garden closes |
---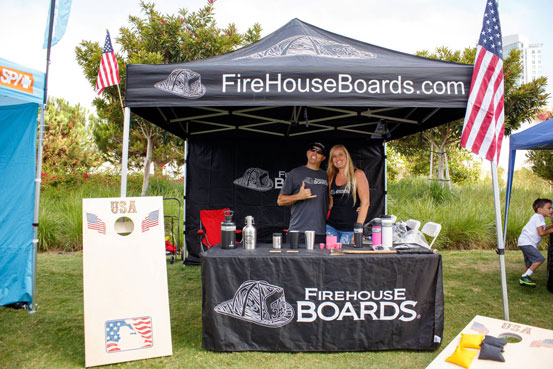 Vendor Booth
To reserve your booth fill out this form and email it to [email protected].