Why we climb
REGISTER NOW Welcome to the 2020 #SD911MSC Registration page. Thank you for joining the climb and participating in this year's memorial event. This year the climb WILL NOT sell out since it is virtual, and we aim to raise $200,000 for our event beneficiaries FirefighterAid, Firefighter Cancer Support Network, and the National Fallen Firefighter Foundation. While your registration fee gets you to the start line, it's your fundraising efforts that get us across the finish line. With every registration, there is a suggested fundraising goal of $110 and this year is no different!. With your dedication and support we know we'll reach our goal!
First thing's first, please read all the directions carefully before you click on the link to register. We're using the Classy platform, so if you're a returning climber this will be the same as last year; if you are new to the event, trust us, it's a very easy platform to use. If you have any problems or questions during the registration process please feel free to email [email protected], and they will be happy to assist you.
Priority start times are given to top fundraisers - not climbers who sign up during early bird registration, or on a first come first served basis. If you want to ensure you absolutely get your desired start time, you've got to work for it. $110 is a great place to start!
Now you're ready to go! Click here to start the registration process. Once you've finished your registration, keep an eye on our social media page and this site to be part of the climb fundraising family! Help us raise funds for awesome charities that care for our heroes.
2020 REGISTRATION
PRICE INCREASES AND DATES
Early Bird Registration
Regular Registration
EVENT SCHEDULE
| | | |
| --- | --- | --- |
| 8:00 am | | Opening Ceremony |
| 8:46 am | | Honor Team #1 begins to climb |
| 9:03 am | | Honor Team #2 begins to climb |
| 9:37 am | | Honor Team #3 begins to climb |
| 9:58 am | | Honor Team #4 begins to climb |
| 10:03 am | | Honor Team #5 begins to climb |
| 10:28 am | | Honor Team #6 begins to climb |

CHOOSING A HERO TO CLIMB FOR
Each climber selects one of the 403 first responders (343 FDNY, 47 PAPD, 23 NYPD) that died on 9/11/01 to climb in honor of. For all 403 heroes we use their professional New York safety agency head shot to display on the climber badges. If you wish to use a different photo for your hero, we suggest you print it out on your own and bring it with you the day of the climb. You can easily slide your picture into the lanyard and display it. We do not grant requests to change hero's head shots. We appreciate your understanding.
Fire Department New York
Adam Rand
Alan D. Feinberg
Allan Tarasiewicz
Andre G. Fletcher
Andrew Brunn
Andrew Desperito
Andrew Fredericks
Andrew Jordan
Angel Juarbe Jr.
Anthony Jovic
Anthony Rodriguez
Arthur T. Barry
Benjamin Suarez
Brian Bilcher
Brian Cannizzaro
Brian G. Ahearn
Brian Hickey
Brian McAleese
Brian Sweeney
Bruce Gary
Calixto Anaya, Jr
Carl Asaro
Carl John Bedigian
Carl Molinaro
Carl Vincent Bini
Carlos Lillo
Charles Kasper
Charles Margiotta
Charles Mendez
Charles William Garbarini
Christian Regenhard
Christopher Joseph Blackwell
Christopher Mozzillo
Christopher Pickford
Christopher Santora
Christopher Sullivan
Dana Hannon
Daniel Brethel
Daniel Harlin
Daniel Libretti
Daniel O'Callaghan
Daniel Suhr
David Fontana
David Gregory Arce
David Halderman Jr
David LaForge
David Paul DeRubbio
David Weiss
David Wooley
Denis P. Germain
Dennis A. Cross
Dennis Lawrence Devlin
Dennis M. Carey
Dennis McHugh
Dennis Mojica
Dennis Mulligan
Dennis O'Berg
Dennis Scauso
Donald James Burns
Donald Regan
Douglas Miller
Douglas Oelschlager
Durrell Pearsall Jr
Edward Alexander D'Atri
Edward F. Geraghty
Edward James Day
Edward Rall
Edward White
Eric Allen
Eric Olsen
Eugene Whelan
Faustino Apostol Jr
Francis Esposito
Frank Bonomo
Frank Callahan
Frank Palmobo
Fred Scheffold Jr
Frederick Ill Jr
Gary Geidel
Gary R. Box
Geoffrey E. Guja
George Cain
George DiPasquale
Gerald A. Barbara
Gerald Atwood
Gerard Dewan
Gerard Duffy
Gerard Jean Baptiste
Gerard Nevins
Gerard Schrang

Gergory Saucedo
Glenn Perry
Glenn Wilkinson
Greg Joseph Buck
Gregg Arthur Atlas
Gregory Sikorsky
Gregory Stajk
Harvey Harrell
Hector Tirado Jr
Henry Miller Jr.
James A Giberson
James Amato
James Michael Gray
James Pappageorge
James Raymond Coyle
James Riches
Jeffery Giordano
Jeffery Olsen
Jeffery Palazzo
Jeffery Stark
Jeffery Walz
Joesph Maffeo
Joesph Maloney
John Chipura
John Crisci
John F. Ginley
John Giordano
John Heffernan
John Joseph Fanning
John Joseph Florio
John Marshall
John McAvoy
John Michael Collins
John Moran
John Napolitano
John P. Bergin
John Paolillo
John Patrick Burnside
John R. Fischer
John Santore
John Schardt
John Tierney
John Tipping II
John Vigiano II
John Williamson
Jonathan Hohmann
Jonathan Ielpi
Jose A. Guadalupe
Joseph Agnello
Joseph Angelini Jr
Joseph Angelini Sr
Joseph Farrelly
Joseph Grzelak
Joseph Gullickson
Joseph Henry
Joseph Hunter
Joseph Leavey
Joseph Marchbanks Jr
Joseph Mascali
Joseph Ogren
Joseph Rivelli
Joseph Spor
Karl Joseph
Keith Alexander Glascoe
Keithroy Maynard
Kenneth Kumpel
Kenneth Marino
Kenneth Phelan
Kenneth Watson
Kevin Christopher Dowdell
Kevin H. Bracken
Kevin O'Rourke
Kevin Pfeifer
Kevin Prior
Kevin Reilly
Kevin Smith
Kevin W. Donnelly
Lawrence Stack
Lawrence Veling
Lawrence Virgilio
Lee S. Fehling
Leon Smith Jr
Leonard Ragaglia
Lincoln Quappe
Louis Arena
Louis Modafferi
Manuel Del Valle Jr.
Manuel Mojica
Mark Whitford
Martin DeMeo

Martin Egan Jr.
Martin McWilliams
Matthew Barnes
Matthew David Garvey
Matthew Rogan
Matthew Ryan
Michael Boyle
Michael Cammarata
Michael Clarke
Michael Curtis Fiore
Michael D. D'Auria
Michael E. Roberts
Michael Emmett Brennan
Michael Esposito
Michael F. Lynch
Michael Francis Lynch
Michael Haub
Michael Healey
Michael J. Elferis
Michael Joseph Cawley
Michael Kiefer
Michael L. Bocchino
Michael Lyons
Michael Montesi
Michael Mullan
Michael N. Fodor
Michael Otten
Michael Quilty
Michael Ragusa
Michael Roberts
Michael Russo
Michael Scott Carlo
Michael T. Carroll
Michael Warchola
Michael Weinberg
Mychal Judge
Neil Leavy
Nicholas P. Chiofalo Jr.
Nicholas Rossomando
Orio Palmer
Partick Byrne
Patrick J. Brown
Patrick Lyons
Patrick O'Keefe
Patrick Waters
Paul John Gill
Paul Keating
Paul Martini
Paul Michael Beyer
Paul Mitchell
Paul Pansini
Paul Ruback
Paul Tegtmeier
Peter Bielfeld
Peter Brennan
Peter Carroll
Peter J. Ganci Jr.
Peter L. Freund
Peter Langone
Peter Martin
Peter Nelson
Peter Vega
Philip Petti
Raymond M. Downey
Raymond Meisenheimer
Raymond Murphy
Raymond York
Ricardo Quinn
Richard Allen
Richard Kelly Jr
Richard Muldowney Jr.
Richard Prunty
Richard Van Hine
Robert Cordice
Robert Curatolo
Robert Edward Evans
Robert Hamilton
Robert J. Foti
Robert James Crawford
Robert King Jr.
Robert Lane
Robert Linnane
Robert McMahon
Robert McPadden
Robert Minara
Robert Nagel
Robert Parro
Robert Regan
Robert Wallace
Robery Spear Jr

Ronald Kerwin
Ronald Paul Bucca
Ronnie Gies
Ronnie Henderson
Ruben D. Correa
Salvatore B. Calabro
Samuel Oitice
Scott Kopytko
Scott Larsen
Scott Matthew Davidson
Sean Hanley
Sean Tallon
Sergio Villanueva
Shawn Powell
Stanley Smaglala
Stephen Siller
Stephen Elliot Belson
Stephen Harrell
Stephen Russell
Steve Mercado
Steven Coakely
Steven J. Bates
Steven Olsen
Tarel Coleman
Terence Hatton
Terence McShane
Terrence Patrick Farrell
Thomas A. Gardner
Thomas Anthony Casoria
Thomas Farino
Thomas Foley
Thomas Gambino Jr.
Thomas Hannafin
Thomas Hetzel
Thomas Holohan
Thomas Kennedy
Thomas Kuveikis
Thomas M. Butler
Thomas McCann
Thomas Mingione
Thomas Moody
Thomas O'Hagan
Thomas P. DeAngelis
Thomas Patrick Cullen III
Thomas R. Kelly
Thomas Sabella
Thomas Schoales
Thomas Theodore Haskell Jr
Thomas W. Kelly
Timothy Haskell
Timothy Higgins
Timothy McSweeney
Timothy Stackpole
Timothy Welty
Vernon Paul Cherry
Vernon Richard
Vincent Brunton
Vincent Francis Giammona
Vincent Halloran
Vincent Kane
Vincent Morello
Vincent Princiotta
Walter Hynes
William F. Burke Jr
William Feehan
William Henry
William Johnston
William Krukowski
William Lake
William Mahoney
William McGinn
William McGovern
William O'Keefe

New York Police Department
Brian Grady McDonnell
Det. Claude Daniel Richards
Det. Joseph V. Vigiano
Glen Kerrin Pettit
James Patrick Leahy
Jerome M. P. Dominguez

John D'Allara
John William Perry
Mark Joseph Ellis
Moira Ann Smith
Paul Talty
Ramon Suarez

Robert Fazio, Jr.
Ronald Philip Kloepfer
Santos Valentin, Jr.
Sgt. John Gerard Coughlin
Sgt. Michael S. Curtin
Sgt. Rodney C. Gillis

Sgt. Timothy A. Roy, Sr.
Stephen P. Driscoll
Thomas M. Langone
Vincent Danz
Walter E. Weaver

Port Authority Police Department
Alfonse J. Niedermeyer
Antonio J. Rodrigues
Bruce Albert Reynolds
Capt. Kathy Nancy Mazza
Chief James A. Romito
Christopher C. Amoroso
Clinton Davis, Sr.
David Prudencio Lemagne
Dominick A. Pezzulo
Donald A. Foreman

Donald James McIntyre
George G. Howard
Gregg J. Froehner
Insp. Anthony P. Infante, Jr.
James Francis Lynch
James Nelson
James Wendell Parham
John Dennis Levi
John Joseph Lennon, Jr.
John P. Skala

Joseph Michael Navas
Kenneth F. Tietjen
Liam Callahan
Lt. Robert D. Cirri
Maurice V. Barry
Michael T. Wholey
Nathaniel Webb
Paul Laszczynski
Paul William Jurgens
Richard Rodriguez

Sgt. Robert M. Kaulfers
Stephen Huczko, Jr.
Supt. Ferdinand V. Morrone
Thomas E. Gorman
Uhuru Gonga Houston
Walter Arthur McNeil
Walwyn W. Stuart, Jr.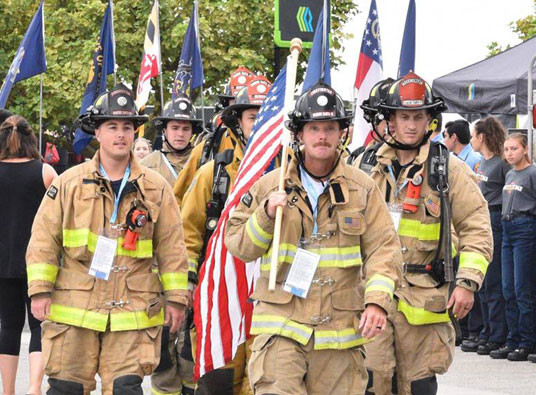 HONOR TEAM SELECTION
Honor Teams are awarded a very special privilege at the event as a result of remarkable fundraising or sponsorship. They are awarded a unique climb start time that coincides with a­­­­ powerful 9/11/01 event. The teams that receive this honor are decided based upon the total amount a team has raised, regardless of team size, by TBD.
2020 Honor Teams Receive The Following Benefits:
Honor Start time, occurring at the same time as a powerful 9/11 event
Captain can select the music to be played during start time
Special shout out by the event emcee
Carry a US flag into stairwell to be planted next to their team poster
Shout outs on social media pages
Honor Team Start Times:
8:46am Flight 11 crashes into WTC North
9:03am Flight 175 crashes into WTC South
9:37am Flight 77 crashes into Pentagon
9:58am South Tower collapses
10:03am Flight 93 crashes outside Pittsburg
10:28am North Tower collapses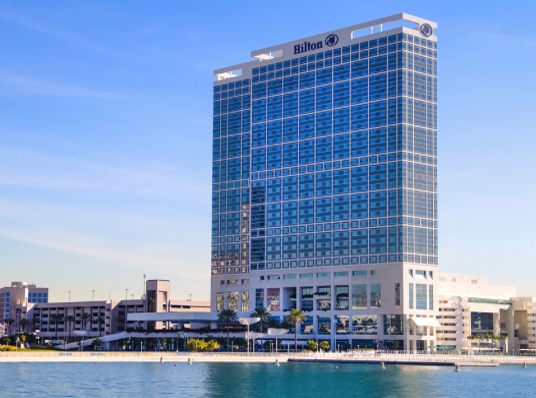 HILTON